Inspired by Sharbat Gul, the Green Eyed Afghan Refugee Girl, Future Brilliance Founder Sophia Swire has been working tirelessly to support women and girls in Pakistan and Afghanistan for 30+ years.
Since the Summer of 2021, Future Brilliance has found the following immediate and practical ways to address the humanitarian crisis at hand:
We are working hard to help the hundreds of Afghan asylum seekers, facing imminent risk of arrest and torture, obtain visas, travel funds and housing.
We are offering job skills training to the 200+ Afghans stuck in Pakistani safehouses, awaiting asylum.
We are teaching the asylum seekers the following skills, with the hope that by retraining them, they will be able to start over successfully in a country seeking skilled immigrants:

English language
Digital literacy
Coding
Social media marketing
Online customer support
Nursing
Beaded jewelry making

We are also providing schooling for the children in:

Robotics
English Language
Mathematics

We are training trainers who will continue to pass on the skills they have learned to other refugees.
We are also offering wellbeing education in first aid, trauma counseling, and conflict resolution to address the very real experiences of recent asylum seekers.
Our key educational and vocational programs are:
Digital Literacy – We provide citizens, often in remote areas, with access to e-learning and broad skills development via solar-powered, internet-enabled tablets pre-loaded with a range of applications tailored to individual needs.
Gemstone Sector Development – We support the growth of jobs and enterprise in Afghanistan's gemstone and jewelry industry by developing a skilled workforce, launching Afghanistan's first jewelry brand (Aayenda Jewelry), and empowering artisans to coordinate and collaborate through the first-of-its-kind Aayenda Jewelry Cooperative, founded and led by Afghan women artisans.

Aayenda Jewelry, a project of the non-profit, Future Brilliance, develops and markets beautiful, contemporary, Afghan jewelry, creating opportunity for hundreds of local artisans, especially women. Our vision is a world of empowered young women supporting one another creatively – and economically. Aayenda Jewelry is hand-crafted by members of the Aayenda Jewelry Co-Operative. So far, work has been generated for over 1200 artisans (including 300 war widows) and over 30 skilled Afghan jewelers and gem cutters, trained to international standards by Future Brilliance Afghanistan Organisation (FBAO).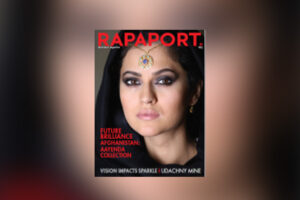 Aayenda Jewelry: Gems of Hope
The ground-breaking work of Future Brilliance and its social enterprise, Aayenda Jewelry, has been profiled on TV and radio, in magazines, and newspapers, internationally, including BBCTV, Mail on Sunday, and Rapaport, the world's leading jewelry trade magazine. In 2016, Aayenda Jewelry graced the front covers of various issues of Cosmopolitan Magazines throughout the world, modelled by supermodel and actress, Alessandra Ambrosio.
The three main goals of our work are:
To train women and artisans in post conflict communities in relevant skills that lead to viable new businesses and better employment opportunity;
To be a catalyst for sustainable economic growth in key sectors of the economy which have the potential to generate the most jobs; and
To develop both governance and professional capacity, so that local people assume responsibility for their own economic development.